Ways to avoid insolvency
If your debt is feeling out of control, there are lots of options before a formal insolvency procedure — but you need to take action as soon as you think you might have trouble paying what you owe.
An insolvency procedure is a formal process that lets you clear your debt, but it has a big impact on the rest of your life.
Before considering an insolvency procedure, you should look at your options below.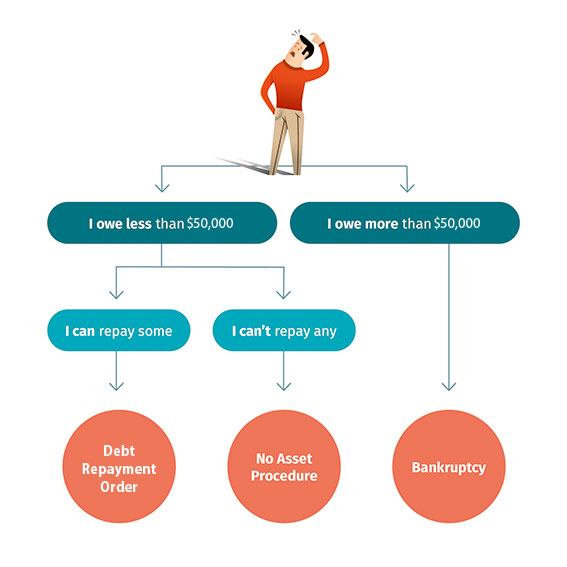 Get advice

Budget and financial advisors can give you a better understanding of where your money is going. They'll help you with tips and ideas on how to cut out unnecessary costs and reduce expenses. There are free services available.

You can:

ask a budget advisor or financial advisor for suggestions on how you could manage your debts (e.g. by combining them or by paying a lower rate of interest)
ask them for help to negotiate with your creditors
talk to a mortgage broker to see if you can get a better deal on your mortgage
get help from the New Zealand Gambling Helpline if some or all of your debt is due to gambling, by calling toll free 0800 654 655.

Explore ways to get more money

The more money you can put towards your debt, the better. You'll pay less in interest and penalties, and when your creditors see you're serious about paying them back, they might be more willing to negotiate.

Sell your assets

Selling the things you own may result in enough money to pay your creditors or reduce your debt.

Take on another job

You may be able to take on more work or get an extra job to earn more money.

Use KiwiSaver

If you can prove that you're really struggling financially, you may be able to withdraw some of your KiwiSaver savings. You'll need to be able to show that you:

can't pay your minimum living expenses, or
can't pay the mortgage repayments on the home you live in.

If your debt was caused by an illness in your family, you can also ask for a withdrawal because you had to:

make changes to your home because you or a family member has a disability
pay for medical treatment because you or a family member are sick, injured or require care from a life-threatening illness, or
had to pay funeral costs for a dependent family member.

Negotiate with your creditors

With the help of a financial or budget advisor, you may be able to reach some kind of arrangement with your creditors.

If you can show you have a plan to repay your debt, your creditors may be willing to:

give you more time to pay them
give you a lower interest rate
charge you fewer penalties.

If you have debt with IRD

If you have any unpaid taxes with Inland Revenue, like income tax or GST, you may be able to reach an agreement with them. This could save you extra penalties and might mean you can pay off what you owe over time. If you're in serious hardship, you might even be able to apply for a write-off.

For more information, contact Inland Revenue(external link).

Avoid taking on any new debt

Get a second opinion if you're offered a way to consolidate your debt.

Consider a debt management plan or proposal

If all your creditors agree, you could try arranging a debt management plan or proposal — these are more formal steps you can take without entering into formal insolvency procedures.