Dashboard
Once you have logged in for the first time, you will reach your own personalised dashboard. The dashboard will differ slightly depending upon what you use our services for.
If you are an individual using our services to file a Debt Repayment Order, No Asset Procedure, Bankruptcy application or file a claim because someone owes you money, you will be taken to a dashboard as an individual.
If you use our services on behalf of an organisation you work for, you will be taken to a dashboard for your organisation.
Individual dashboard
Apply for insolvency
File a claim
Apply for consent to travel
Apply for consent to be employed
Update your personal information
Below is an example of what the dashboard will look like the first time you login with your RealMe.
From here you will be able to apply for a Debt Repayment Order, No Asset Procedure or Bankruptcy by selecting 'Apply for insolvency'.
If you are owed money by someone who is already in an insolvency procedure, you will be able to file a claim directly from the dashboard.

From the dashboard you will be able to track the progress of your application from applying through to acceptance.
If you change your mind, you can delete the application before it is submitted.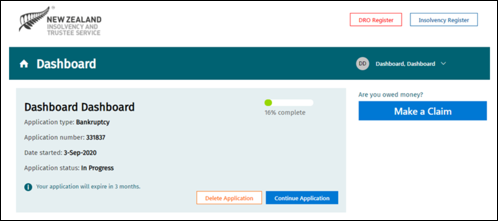 Once an application is submitted you can withdraw or edit the application.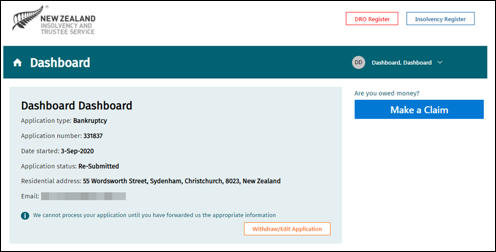 When your application has been accepted, more options will appear on the Dashboard and you will be able to view a summary of your insolvency.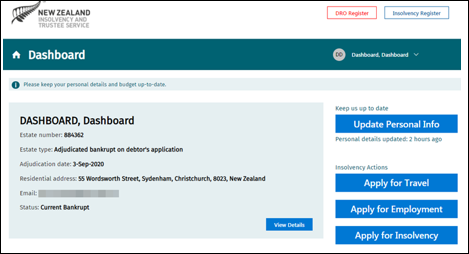 Organisation administrator dashboard
File a claim
Update your organisation details
Add new creditors
If you are an organisation administrator, you will also be able to add new users to your organisation from the dashboard
Once logged into you will see 'Organisation Details' from the dropdown menu at the top right of the screen.
Within 'Organisation Details' you are able to add new users and related creditors to your organisation account.
Once you have submitted a claim, you will be able to see this on from the dashboard via 'View my claims'.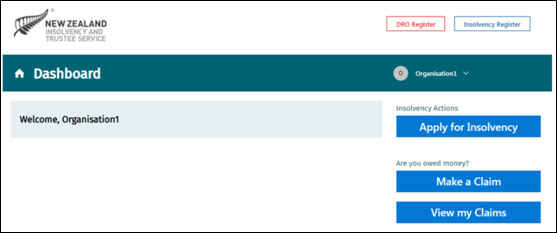 Details of all the claims that have been filed will be listed.